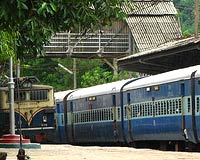 Located in the southern part of the state of Maharashtra, the little hill-station of Khandala is well-connected by various communication networks. Its accessibility is high because of its strategic location, near the major cities of Mumbai and Pune. The hill station is located at a distance of approximately 100 km to the southeast of Mumbai and 70 km from the city of Pune. Generally every train or bus that head towards South India from Mumbai has to pass through the twin hill-stations of Khandala and Lonavala. Here are some of the most convenient ways of reaching Khandala, providing an answer to all those who want to know how to reach the hill station.
By Air
Khandala doesn't have an airport of its own. The nearest domestic airport near Khandala is located in Pune (64 km) and the nearest international airport is in Mumbai (110 km). All the major domestic airways offer their services at both these airports. So, people traveling to Khandala via air have to board a flight either till Mumbai or till Pune, and then avail local modes of transport to reach the place. International tourists can travel till Mumbai, and then easily avail Khandala-bound taxis, buses or private cars from the Mumbai airport.
By Train
The nearest railway station for reaching Khandala is located at Lonavala. Lonavala, being located on the Mumbai-Pune rail route, has various express and local trains that shuttle play till these two cities. It takes three hours to reach Lonavala from Mumbai and about an hour from Pune. The journey to Khandala from Lonavala is feasible by availing any of the local modes of transport or even on foot, as it takes only 15 min to cover the distance. Some of the daily express trains that pass through Lonavala are:
Mumbai-Pune Deccan Express
Mumbai-Pune Deccan Queen
Mumbai-Pune Sihangad Express
Mumbai-Pune Pragati Express
Mumbai-Pune Indryani Express
By Road
The roadways that connect Khandala to Mumbai and Pune are excellent and well-maintained. Moreover, the Mumbai-Bangalore National Highway passes through it, which makes it readily accessible from these cities and nearby areas. Various state-operated buses (AC, Deluxe, Non-Deluxe) are easily available from Mumbai and Pune, for getting to Khandala. Private tour operators also provide luxury/non-luxury bus and taxi services to reach the place. The travel time to reach Khandala from Pune by bus is about 2½ hrs, while it takes around 4 hrs to reach the place from Mumbai.