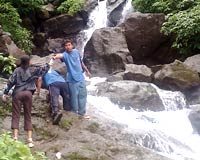 Khandala is one of the most sought after tourist destinations in India. A hill station in Maharashtra, it is the most popular and hot spot for the people residing in the west part of the country. Apart from its enormous innate magnificence, it has a plethora of places to seen by the people who come here on sightseeing tours. These tourist attractions are the ideal locations to offer them enjoyment as well as relaxation. So, for all those who want to stretch themselves and laze around with a difference, Khandala is the right pick!
Tiger's Leap
It is one of the most fascinating places in this area. If someone carefully observes the valley from this point, it will appear as if a tiger is leaping into the valley. Thus, the place has been named as Tiger's leap. Special arrangements have been made for the tourists to view the panoramic site of the valley, i.e. via the safe confines of a big hole from this point. Moreover, for an enthralling experience, throw a stone from this point and see it topple down the valley and get destroyed.
Amrutanjan Point
Amrutanjan point is yet another point located high up in Khandala. It provides excellent view of the places nearby. As there is a lot of flat space available here, the point is a well suited location for an enormous sight of the valley as well as the Duke's Nose. Besides, you can also see the city of Khopoli from here. It is situated at the end of the first slope, as you enter Khandala.
Duke's Nose
Duke's Nose is a cliff here, which has been named after the Duke Wellington, as he had a pointed nose, which the cliff resembles. However, it is also known as "Nagfani" (Hood of Snake), as it also looks like the hood of a snake. Duke's Nose can be easily reached from INS Shivaji and Kurwande Village. Apart from its scenic beauty, it also attracts visitors with its mountain climbing trails.
Reversing Station
Reversing Station once belonged to the Railways, but now remains deserted and unused. It lies outside tunnel no. 26, on the rail route. The nearby regions and the city of Khopoli are visible from here. It presents an eye catchy site at night, when it is illuminated with hundreds of lights that bring it to life.
Karla and Bhaja Cave
Karla and Bhaja Caves are historical rock cut caves, situated at a distance of 16 km from Khandala. They are one of the main attractions here, due to their enormous antiquity and beauty. Located amidst hills, their origin dates back to the 2nd century. These caves belong to the Hinayana sect of Buddhism and are one of the finest examples of rock cut caves in India.
Bhushi Lake
Bhushi Lake situated in Khandala is the ideal spot for all those who wish to relax in the lap of Mother Nature. Its serene and tranquil surroundings and crystal clear water provides immense opportunities for the tourists to rest in peace.